Returning Walkers
Welcome Back
Supporters
How You Can Help
Find strength. Find purpose. Find hope. Find a cure.
A breast cancer diagnosis—whether it's your own or someone you love—changes your life. Imagine if there were a way to turn that change into a force for good. To fight back, and to do something that can really make a difference. There is. It's called the Susan G. Komen 3-Day®.
It's a 3-day, 60-mile walk with a bold goal—to end breast cancer forever. We keep walking, and we keep raising money until breast cancer is done. Over the past 13 years and 150 events, we've raised more than $800 million—which Komen has used to save lives and make huge strides in breast cancer research.
The Komen 3-Day has also changed the lives of thousands of women and men who left the event transformed. You'll find strength, you'll find purpose, and you'll find a community of people who will restore your faith in the world as a place of kindness and joy.
Free Travel for New Walkers
You know that the 3-Day experience can be hard to describe. It's something that everyone should experience first-hand. So we're providing a free, round-trip plane ticket for all first-time walkers who are traveling more than 200 miles to come to the 3-Day. Click here for details. Then register by April 19 with code BYB17.
You Can Do This
From the minute you register, an experienced 3-Day® walker will be your coach and mentor for your entire journey. Through fundraising and training, you'll meet other walkers, you may form a team, and you'll gather together in triumph for three incredible days.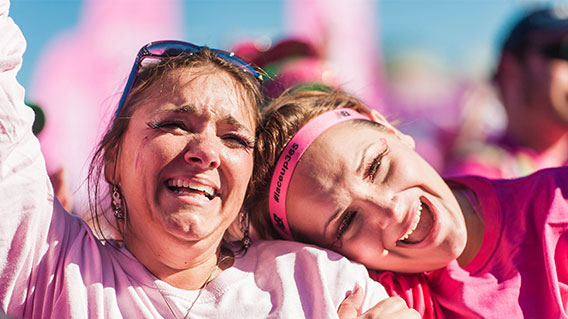 The Facts:
It's a 60-mile walk over the course of 3 days.
The route is fully-supported by an experienced crew who will keep you safe and comfortable (and cheer you on like a rock star!).
For two nights, you'll camp together in the 3-Day community.
You'll raise $2,300 to end breast cancer. It's a big commitment, but to end breast cancer, we have to act boldly. It's time to step up and do the most you can do—for this cause, for those you love and for yourself.
"The 3-Day walk was beyond my wildest dreams. It was a 'calling' that I was compelled to take up, and was truly life-changing. I needed to be a part of something that made a difference. I definitely found that, and so much more."
—Sandy, Twin Cities 3-Day Walker
You are a Part of the Biggest Breast Cancer Event Ever
The Susan G. Komen 3-Day® became what it is because of you. You built this community from the ground up into an unstoppable force. So let's continue the battle cry together: We will never give up. We keep walking, and we keep raising money until breast cancer is done.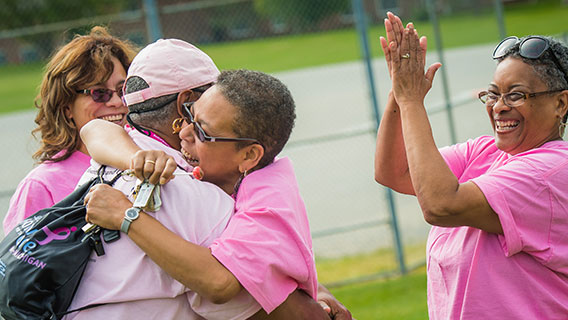 New Tools for Returning Participants:
Our shareable infographics will educate your donors, teammates, family and friends about how 3-Day funds transform into life-saving work.
Expand your team and spread the 3-Day spirit with our 3-Day Recruitment Kit.
Experienced 3-Day walkers can brush up their fundraising strategies with these suggestions from two long-time fundraisers and 3-Day coaches.
Don't forget about your coach! You may be an experienced 3-Day walker, but they are, too! Our coaches have a combined 85 events and more than $245,000 in fundraising under their belts. Reach out for extra support, new ideas, or training advice.
"Our whole family was so far away from my sister Sue, and we all tried to be there for her, but there was nothing we could do. Treatment had to take its course. But the 3-Day felt like something that could focus our energy somewhere on something good. It's a beautiful walk, with everyone cheering, and all of us being together and having time to talk. That was one thing we were looking forward to. We're all spread out, we each have kids, we don't really get moments to get away and just be adults and chat and talk about life."
—Jen, Seattle 3-Day Walker
There are Many Ways to Support the Fight to End Breast Cancer
The Susan G. Komen 3-Day® is a 60-mile walk with a bold goal—to end breast cancer forever. A Komen 3-Day walker's journey is long and challenging, and they need you to help them through it.
It Takes a Village
When the 3-Day® comes to town, the whole community rallies around it. Cheering stations and squads of all sizes energize and inspire the walkers, and spread breast cancer awareness and the spirit of the 3-Day. It's three incredible days as part of a community dedicated to doing good. Don't miss it!
There are many different ways you can join in. Serve as a crew member, make a donation, volunteer your time, join a cheering station or organize a cheering squad.
The Facts:
Serve as the walkers' lifeline and the backbone of the event as a 3-Day crew member.
Spend a few hours or a day bringing the Opening or Closing Ceremonies to life as a volunteer.
Be the person who inspires our walkers to take one more step on the route in one of our Mobile Cheering Squads (what we affectionately call "walker stalkers").
Join local businesses and community groups at a Cheering Station along the route.
Help end breast cancer with your donation. Click here to donate.
Register today to join us as a walker.
"There are people cheering you on when all you want to do is stop. They are handing out stickers and holding signs, jumping up and down with pom-poms yelling 'You're doing so great, you're almost there.' I met a lovely woman from Florida, a breast cancer survivor serving on the crew, who hugged me before my walk and gave me great words of encouragement. She came and found me at the end of the day too to see how it went. I felt like I had my own personal cheerleader in the crowd. It was an amazing feeling."
—Meghan, Atlanta 3-Day Walker
Never miss a thing
Subscribe to receive
3-Day news and promotions


Subscribe