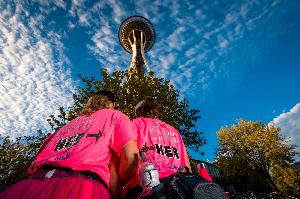 Since 2 of my 7 events, I thought I would update my personal page. If you have been following me from the begining you know I started participating in this event in 2007. Since then I have walked 9 times (2 of which occured this August) and crewed 4 times. Every event I participate in I am in awe of the strength and determination of those around me. Making the decision to walk all cities was not something that happened over night. It was a thought that took roots a year ago. This past weekend was an amazing experience for me. I walked in the rain most of Saturday, but danced in the puddles. I made many new friends, and heard many stories. When I started walking in 07, I did so in memory of Nancy Jane. A beloved member of Conrad's family. She had an amazing spirit, and strength. Sadly she lost her battle in 2004 to inflammatory breast cancer. She did not however go out without a fight. I can still feel her positive energy today as I picture her sitting and watching the Halloween Parade in town. She was determined to not let this disease get the best of her. I walk in her memory. I celebrate her life. I carry her with me.
I walk because I can! In this past 2 events I have returned ache and blister free! I pray my luck holds out as I have seen and know personally many people who struggle with feet and leg ailments. After my first event in 2007 in which I received a blister the size of a pin head and no leg issues I vowed to be a part of this as long as I was needed. I felt as though it was my calling if you will.
I walk because I must! Each year on event I hear stories from other walkers about the reasons they walk. I have heard too many stories over the years of young women diagnosed too late and because of that, they are not given a fair fight. This past weekend in Twin Cities I heard a heartfelt story from a man who lost his daughter at 31 after a 7 year battle. I walk because I don't want to worry about saying good-bye to my daughter before it is time.
I walk for those who can no longer walk 60 miles. Walking 60 miles isn't easy, and for some it becomes too much, but the desire still remains. For them I take up the torch and carry it in their honor!
I am walking 7 cities, because I feel that it has come time to go big or go home! Walking 7 cities will not be an easy task, but neither is chemo, and neither is losing a loved one to cancer! I will walk all 7 cities this year to not only raise funds, but raise awareness on a grand scale.
When I started this walk I went out of my comfort zone. I signed up as a solo walker and learned a long the way to embrace life and all of the opportunites that life sends at you, and that nobody walks alone. I have become comfortable with this event and this family. This year I am taking myself out of my comfort zone just a little bit, and challenging myself to make an impact in the biggest way I know how!
Walking 7 cities! Walking 420 miles in one year, not over the course of time. Raising $16,100 in one year will push me to my limits. It will take me far out of my comfort zone. It will require great strength and commitment, and a lot of support. Will you support me?
In Philly last year I walked with my 7 year old on my back for several blocks after having walked 55 miles. If I can carry the weight of a child on my back, I know I can carry the weight of 7 cities. Please join me today and let me carry you with me.
Please donate today, and help me take a stand and make a difference.
View More