Your Susan G. Komen 3‑Day® journey will begin with an inspiring, emotional Opening Ceremony. You'll walk through gorgeous oceanside neighborhoods and beautiful parks, and spend two fun-filled nights at our Komen 3‑Day camp, bonding with your fellow walkers. It all culminates in a celebratory Closing Ceremony.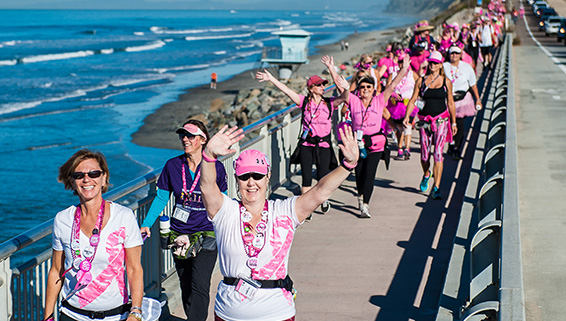 To get a glimpse into the journey, here is a look at the 2016 San Diego 3‑Day route map. More details about the 2017 route will be revealed as we confirm them.
Get A Glimpse Of The 3‑Day Experience
Meet your 3‑Day Coach: Staci
4-time walker
$10,000+ raised to date!
contact
800-996-3DAY, Option 6
sandiegocoaches@the3day.org
Never Miss A Thing
Subscribe to receive 3‑Day news and promotions
Subscribe
Staci
I am the primary support coach for walkers, answering your phone calls and email. I have raised more than $10,000 for the 3‑Day, walking four times. My history with the 3‑Day dates back to 2003. I was so inspired by my mother-in-law's courage and strength as she fought her brave battle against breast cancer that I signed up to walk in her honor. I was expecting it to be challenging to fundraise. I was expecting it to be challenging to walk so far. What I wasn't expecting were the bold and rewarding feelings of camaraderie and accomplishment. I was not prepared for the undeniable sense of power created by a community with a common purpose. Now, with four 3-Days under my fanny pack, I'm looking forward to supporting you along your own 3‑Day journey!
Amy
I will be supporting the crew members and volunteers for the San Diego 3‑Day. I walked in the 3‑Day in 2002 and raised more than $2,700. After 60 long miles and a few blisters, I can truly say it was an unforgettable journey that I will cherish forever. It was after that experience that I knew I had to be involved in this event any way I could. For the past 11 years, I have been supporting our Crew community and it has been a true honor. On the 3‑Day you will be rewarded with a lifetime's worth of incredible memories. I want to personally thank you for your commitment. With your help, the 3‑Day will change lives, and have a lasting, positive impact on millions of people.
As soon as you register, you get a wide variety of tools to help you:
Personal fundraising webpage
Online Participant Center to track your progress and email your donors
Fundraising and Training Handbooks
Discounts from local stores on shoes and gear
Organized training walks all across the country
And much more!