Your Susan G. Komen 3‑Day® journey will begin with an inspiring, emotional Opening Ceremony at Del Mar Fairgrounds. You'll walk through gorgeous oceanside neighborhoods and beautiful parks, and spend two fun-filled nights at our Komen 3‑Day camp, bonding with your fellow walkers. It all culminates in a celebratory Closing Ceremony in San Diego.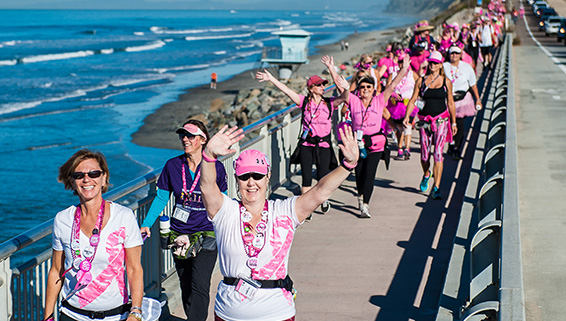 To get a glimpse into the journey, here is a look at the 2015 San Diego 3‑Day route map. More details about the route will be revealed as we confirm them.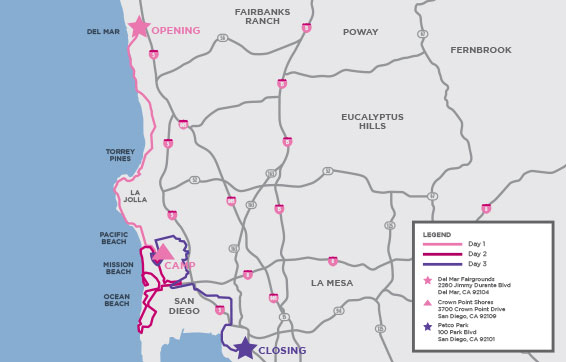 Get A Glimpse Of The 3‑Day Experience
Meet your 3‑Day Coach: Staci
4-time walker
$10,000+ raised to date!
contact
800-996-3DAY, Option 6
sandiegocoaches@the3day.org
Never Miss A Thing
Subscribe to receive 3‑Day news and promotions
Subscribe
Staci
I am the primary support coach for walkers, answering your phone calls and email. I have raised more than $10,000 for the 3‑Day, walking four times. My history with the 3‑Day dates back to 2003. I was so inspired by my mother-in-law's courage and strength as she fought her brave battle against breast cancer that I signed up to walk in her honor. I was expecting it to be challenging to fundraise. I was expecting it to be challenging to walk so far. What I wasn't expecting were the bold and rewarding feelings of camaraderie and accomplishment. I was not prepared for the undeniable sense of power created by a community with a common purpose. Now, with four 3-Days under my fanny pack, I'm looking forward to supporting you along your own 3‑Day journey!
Kim
I will be out in the San Diego area, working with our amazing participants to help bring even more walkers to the San Diego 3‑Day this year. I have raised more than $12,000 for the 3‑Day, walking five times. I can honestly tell you that this has been life-changing and I am confident you will feel the same once you experience it. Making a difference in the fight against breast cancer is not only important and rewarding but also so much fun! Walking, talking and making new friends all while raising money for a cure. I am here to help you get started on your 60 mile journey.
Nanette
I will be supporting the crew members and volunteers for the San Diego 3‑Day. I have raised more than $4,600 for the 3‑Day, walking two times and serving as a crew member five times. I've also helped my daughters raise more than $5,600 for the 3‑Day Youth Corps. The San Diego 3‑Day Crew is where my heart lives and breathes and so I'm thrilled to be working with you again this year. The 3‑Day Crew has been the warm embrace of a family for me and I am honored to work with such a fantastic group of people with the biggest hearts in the world. We're going to have another amazing experience as we trudge forth in our fight to end breast cancer. If you should need any assistance with crew related matters, I am always here for you. Please feel free to contact me at any time.
As soon as you register, you get a wide variety of tools to help you:
Personal fundraising webpage
Online Participant Center to track your progress and email your donors
Fundraising and Training Handbooks
Discounts from local stores on shoes and gear
Organized training walks all across the country
And much more!
Donate:
Find a Participant or Team:
Participate: